Fresh Garden Tomato Soup
by Anne Temple, August 28, 2022
It's that time of the year when our garden harvests are coming in, usually fast and furious and sometimes it can get overwhelming. I have 80 tomato plants in my garden and eat as much fresh as I can. I use the cherry tomatoes to make delicious Roasted Cherry Tomato Pasta Sauce and freeze most of the paste tomatoes to can later on for use all year. Even after all that I still have tomatoes coming in. I have come up with a great way to use up extra tomatoes so they don't go to waste.
This recipe is also a great way to use up those tomatoes which you might throw away, ones with bruises or insect damage. Find a great deal on canning tomatoes at the farmer's market? Grab them up and let's make some soup for the cold winter months ahead. This recipe is so simple and SOOO GOOD!
The following recipe will make about 3 quarts of soup. You can halve the recipe for smaller batches.
RECIPE:
6 pounds of ripe tomatoes
6 cloves of garlic
3 medium onions, quartered
1/4 cup organic olive oil
Salt and fresh ground pepper, to taste
1 t. crushed red pepper flakes
3 bay leaves
6 cups of stock (use any kind you like, I used vegetable stock)
1 handful of fresh basil leaves (or 1 t. dried)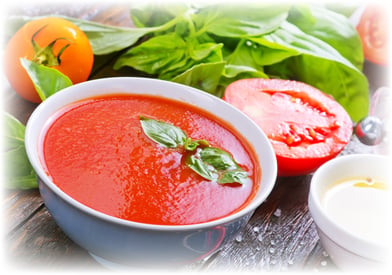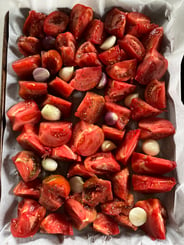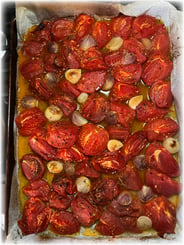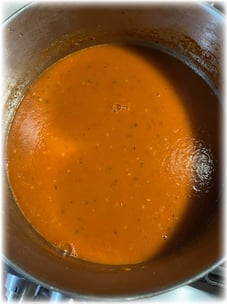 DIRECTIONS
Preheat the oven to 450°.
Line a rimmed baking sheet with parchment paper. Wash and core the tomatoes, cutting out any bad spots, halve or quarter them (depending on their size), and spread them with the garlic and onions on the baking sheet. Drizzle with olive oil and sprinkle with salt and pepper. Roast for 30-40 minutes until the tomatoes start to carmelize.
Remove from the oven and add to a large stockpot with the stock, bay leaves and red pepper flakes. Bring to a boil and simmer for 20-30 minutes until soup has reduced for about 1/3.
Remove the bay leaves and blend with an immersion blender, or add in parts to a blender (be careful not to overfill or your blender will blow its top and you could get seriously burned, not to mention the mess!)Garnish with additional fresh basil leaves, croutons, or anything you like!
Enjoy!
Notes:
This freezes well. Be sure to mark your container.