I have been making bread for most of my adult life.  There were times when I didn't make bread and would buy it — but have you seen the cost for good bread these days?  Ridiculous.
In my work with Moms Across America I know that unless you are buying organic the chances are that you are getting glyphosate, or Roundup in your bread. Even though wheat is not currently a GMO crop, they are spraying Roundup on it too dessicate, or dry out the crop to make it easier to harvest it.  They then send the grains to the mill .  Glyphosate does not wash, dry or cook off. 
Even when you go to the bakery and spend $8 on a beautiful artisan loaf, if it isn't organic, it probably has toxic pesticides in it. 
Making your own bread just makes sense.  It is a very comforting ritual once you get into it.  And this recipe makes 3 loaves, so depending on how much your family consume will depend on how often you need to make it.  I usually make it on a Sunday afternoon.  It is a ritual I look forward to, especially in the winter.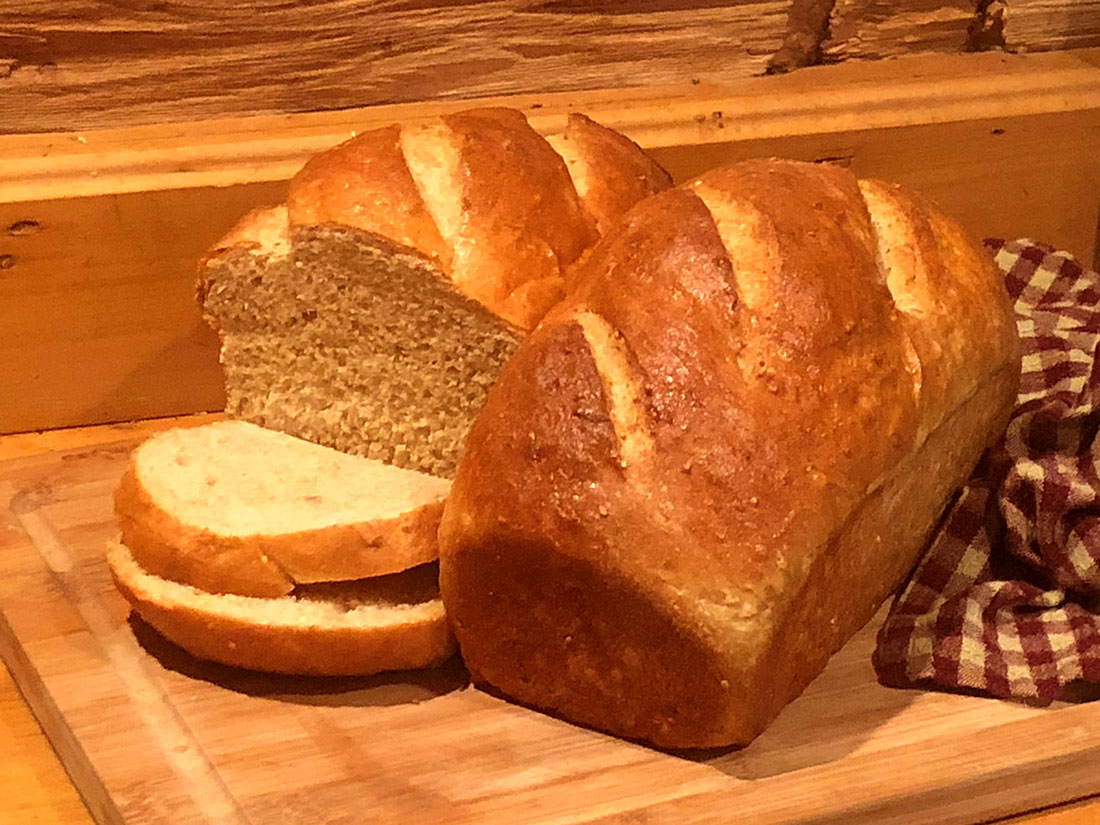 Annie Organie's Sunday Loaves
Life is too short to be without homemade bread....
Print
Pin
Ingredients
4

cup

Warm Water - 105˚ - 115˚

2/3

cup

honey - divided

1

tbsp

yeast (or 2 packets)

1

tbsp

sea salt

5

cup

organic bread flour

1/2

cup

butter - melted

4-6

cup

whole wheat flour

1/4

cup

sesame seeds (optional)

1/4

cup

whole oats (optional)

1/4

cup

amaranth (optional)

1/4

cup

raw sunflower seeds (optional)
Instructions
In a large mixing bowl combine warm water, 1/3 cup honey, and yeast. Let sit until yeast starts to look foamy, about 5-10 minutes.

Mix in 5 cups of the bread flour, one cup at a time. After mixed, cover with a towel and let sit for 30 minutes to form a sponge - or the dough has lots of tiny bubbles in it - looking like a sponge.

with the mixer turned on with a dough hook (or you can mix it in manually), add the melted butter, salt and last 1/3 cup of honey. If you are using any of the optional ingredients, like the sesame seeds, sunflower seeds or oats, you can also add them here.

Add in the whole wheat flour - one cup at a time until the dough starts to gather together. You don't want it too wet and sticky, but you also don't want to add too much flour to make for a dry crumbly loaf.

Put dough on a lightly floured surface and knead for about 10 minutes and put in a lightly greased bowl (I used coconut oil). Cover and let sit in a warm place until doubled - 1 to 2 hours.

Punch dough down and put on lightly floured surface. Divide into 3 parts and shape into loaves.

Put in greased loaf pans, cover and let rise until doubled, about 1 hour.

score top of loaves with a lame, razor blade or sharp knife and bake in the oven for 40 minutes.

Once baked, put on a wire rack to cool and brush with melted butter if you like for a softer crust.
Notes
This recipe makes three loaves, so I freeze two of them and take them out as needed. 
You can have a LOT of fun with this recipe as it is very forgiving.  Add the optional ingredients